About Me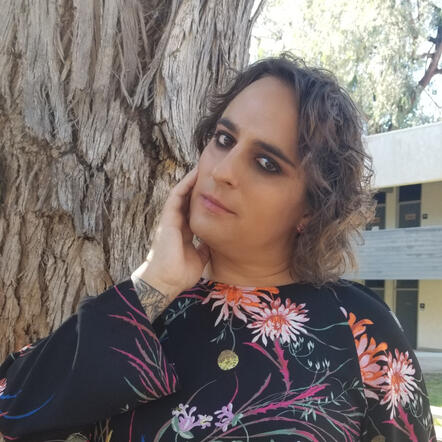 I am an artist, producer, writer and academic studying Communication and Critical Gender Studies at the University of California San Diego. I have also worked as an Executive Chef, a professional golf caddie, bartender, consultant, and newspaper columnist. I am a lifelong traveller who has always followed the path my heart revealed through my insatiable curiosity about ways to live life and the call of a good story.

I earned a M.A. in International Affairs with a concentration in international media from The New School where I split my time between New York City and the West Bank, Palestine where I produced the work of incredible artists and participated in the enduring struggle for liberation. Some of my most cherished moments in life have been spent around tables piled with delicious food and the sharing of stories of survival, love and hope.

When I am not engaged with my current academic work, I love to have long conversations with artists about art, read as much as I can, take advantage of Southern California weather by swimming and going on hikes and might be watching too much Star Trek. I believe living is a practice that requires courage to make space for joy and am dedicated to being in service to others. Together we can shape the possible visions for an equitable and liberated future.
Research & Experience
Education
PhD, Communication (in progress)
Chairs: Dr. Boatema Boateng, Prof. Zeinabu Davis
University of California San Diego

MA, International Studies (2017)
Advisor, Prof. Sean Jacobs
The New School

Certificate, Palestinian and Arabic Studies (2015)
Bierzeit University

BA, Liberal Arts (2015)
The New School
Research Interests
Political economy of art philanthropy, media making as resistance, critical gender studies, decolonial art practice, antiracist methodologies, ethics of storytelling, institutional ethnography, transgender studies
Research Statement
I propose to examine the political economy of art and cultural philanthropy through an antiracist lens situated within the Black feminist call for liberation from the ongoing colonial and capitalist Western hegemonic project of economic development as the path towards universal liberation. Through institutional ethnography, I will examine the the policies of donor organizations, executive and employee goals for their organization, and artists who both attempt to procure funding as well as those that accomplish this task. Furthermore, I will examine how that funding shapes the work artists do and subsequently the way culture and community is produced. I will examine how individuals and collectives of artists are mediated into a particular social relationship though the grant seeking and funding process while also taking into account relationships of power between artists and donor institutions. The goal of my research is to eventually develop tools for both artists and donors to shift the perception of value as being contained with an art commodity and toward the practice of art production as essential to the process of developing antiracist and equitable communities and cultures.
Presentations
"Resource Transfer and Allyship as Media Practice in the Occupied Territories of Palestine"
Milano School of Policy, Management, and Environmental Studies, February 2017

"International Allyship: Decolonial and Antiracist Student Media Movements in New York City"
Birzeit University, July 2016
Teaching
COMM 101 Introduction to Media Practices (UCSD), Winter 2020, Fall 2020 and Winter 2021
Teaching Assistant (Prof. Daniel Martinico, Prof. Zeinabu Davis)
Weekly Media Lab Instructor, 40 students

COMM 100C Communication, Institutions, and Power (UCSD), Spring 2020
Teaching Assistant (Dr. Gary Fields)
Media producer for all remote course content
Teaching Statement
I approach teaching from a process of self discovery in the ways knowledge is produced and with an emphasis on the individual lived experience in confrontation with social structures. I believe teaching critical theory, although rooted in reading and reflecting through the writing process, also requires forms of practice. Furthermore, I believe in facilitating a course where students encounter people working in their intended field as a necessary component for expanding their horizon of possibility post graduation.

Since joining the Communication department at UCSD I have been a Teaching Assistant for COMM 101 - Introduction to Media Practice (including redesigning this course for remote learning). I have designed projects where students are asked to incorporate their experiences in the Communication foundational courses with the goal of critically approaching the concept of structural discrimination. Students have shared with me the ways in which my approach to developing a critical media practice has allowed them to make connections with other courses and their own personal experiences at UCSD. For many, including young women, my lab sections provide a safe space to examine critical issues, such as handling the ways in which male students consume space and discourse, faculty bias, their own grappling with social conditioning and what it means to be safe on campus. Finally, I also recognize the need to continuously monitor my impact as an instructor and do so primarily through frequent engagement with my students to ensure they have all the resources necessary for their success.
Service
Antiracist Working Group Committee ~ AY 2020-21 ~ University of California San Diego
Committee on Care ~ 2020 ~ University of California San Diego
Graduate Student Enrichment Committee ~ 2019-20 ~ University of California San Diego
International Student Outreach ~ 2015-17 ~ Birzeit University
Employment
Research Assistant to Prof. Zeinabu Davis, "Redesigning Media Practice Pedagogy for Remote Learning" ~ July 2020 - October 2020 ~ University of California San Diego

Communication Department Remote Teaching Technology Liaison ~ March 2020 - June 2020 ~ University of California San Diego

Executive Producer ~ 2014 - 2019 ~ Gratiis Productions

Media and Public Relations Consultant ~ 2015 - 2017 ~ Palestinian and Arabic Studies, Birzeit University
Productions
| Year | Title | Type | Company | Location |
| --- | --- | --- | --- | --- |
| 2021 | Interview with Zeinabu irene Davis | Documentary | Criterion | San Diego, USA |
| 2018 | DPs | Web Series | DBNT Productions | Portland, USA |
| 2018 | Hanging Hope | Short Film | Truّ Productions | Ramallah, Palestine |
| 2016 | Jawwal | Commercial | Palmedia | Ramallah, Palestine |
| 2016 | Um Kulthoom Sang Here | Podcast | Gratiis Productions | Nablus, Palestine |
| 2016 | Ass Backwards | Series Pilot | Truّ Productions | Ramallah, Palestine |
| 2016 | Occupation: Artist | Doc Short | Gratiis Productions | Ramallah, Palestine |
| 2016 | Looking for Sidewalks | Novella | Gratiis Productions | Abu Dis, Palestine |
| 2016 | War Lite | News Media | The New School | New York, USA |
| 2015 | PfP 2016 | Digital Short | Playgrounds for Palestine | Philadelphia, USA |
| 2015 | Let Me Live | Short Film | Gratiis Productions | Ramallah, Palestine |
| 2015 | Above the Clouds | Short Film | Denis Butkus | New York, USA |
| 2014 | The Viking Reads | Digital Series | FATG Productions | New York, USA |
| 2013 | Duke Dynamo | Digital Short | Gratiis Productions | New York, USA |
| 2013 | State of NY Mind | Theater | Primary Stages | New York, USA |
Roll Call
All the people and organizations who continue to inspire me each and every day I take breath:
Hasheemah Afaneh ~ Writer, Activist
Dr. Patrick Anderson ~ Writer, Academic, Mentor, Activist, Death Doula
Dr. Boatema Boateng ~ Artist, Academic, Mentor
Denis Butkus ~ Artist, Performer, DP
Peggy Cosgrave~ Actress, Traveller, Lover of Food
Matthew Daniels ~ Artist, Healer, Multi-life Companion
Abdulla Erekat ~ Writer, Lover of Film
Prof. Zeinabu irene Davis ~ Director, Professor, Mentor
Asher Honish ~ Photographer, Healer
Mark Johnson ~ International Aid, Educator, Mentor
Camille Lenain ~ Photographer, Traveller
Osama Mustafa ~ Writer, Director, Media Savant
Dr. Tina Rafidi ~ Educator, Academic, Activist, Mentor
Favorite Media & Books
Coming Soon!